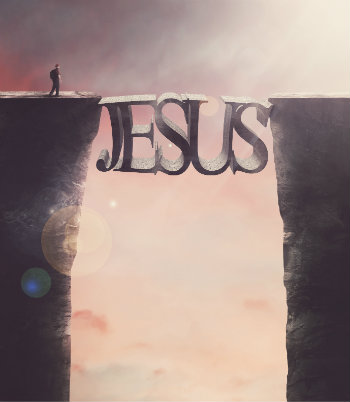 The center of the Gospel message is Jesus ( Acts 4:12 "There is no salvation through anyone else, nor is there any other name under heaven given to the human race by which we are to be saved." ).
"The New Evangelization calls each of us to deepen our faith, believe in the Gospel message and go forth to proclaim the Gospel. The focus of the New Evangelization calls all Catholics to be evangelized and then go forth to evangelize." ( Source )
Mark 12:30-31 - Jesus Speaking... "You shall love the Lord your God with all your heart, with all your soul, with all your mind, and with all your strength. The second is this: 'You shall love your neighbor as yourself.' There is no other commandment greater than these."
If we, as Christians, love the Lord God with ALL our heart and we truly Love others, it will be easier to follow the command of Jesus in Mark 16:15 "Go into the whole world and proclaim the gospel to every creature."
We are called to let our light shine before others ( Matthew 5:16 ). Although we should live our life for others to see Christ in us, we are also commanded by Jesus to "Go Proclaim." When a Catholic Mass ends and the priest says "Go forth, the Mass is ended," that's not just go home and watch TV.
In Matthew 28:19-20 Jesus says "Go, therefore, and make disciples of all nations, baptizing them in the name of the Father, and of the Son, and of the holy Spirit," ..."teaching them to observe all that I have commanded you. And behold, I am with you always, until the end of the age."
Evangelizing is sharing the good news. Evangelizing doesn't mean that you have to stand on the street corner yelling at the top of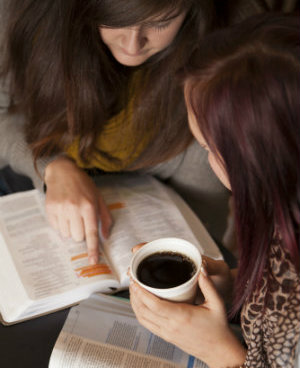 your lungs. There are so many other ways like having coffee with a friend or relative, inviting someone to lunch, inviting someone to church then following up, using the internet ( be ready for the negative feedback if you post publicly - but don't let that discourage you from posting ), start a Bible study group and many other ways that do not require knocking on the doors of strangers during the dinner hour.
Don't let fear keep you from sharing ( evangelizing ) the good news of Jesus Christ. If you are a practicing Catholic, you know the first part of John 14:27, "Peace I leave with you; my peace I give to you. Not as the world gives do I give it to you. Do not let your hearts be troubled or afraid."
There will be challenges that come your way. 1 Peter 3 Second part of v15 "...Always be ready to give an explanation to anyone who asks you for a reason for your hope, ( and first part of v16 ) but do it with gentleness and reverence,..." In other words, be prepared but don't get in an argument.
There are so many resources ( see our drop down menus: About & Resources ) available to help with evangelization and knowing your Catholic faith. There are also booklets available like Pillar of Fire, Pillar of Truth: The Catholic Church and God's Plan for You and lots of pamphlets ( tracts ).
Remember, there are no shortage of "Mormons" and "Jehovah's Witness" sharing their version of the Gospel. Fallen away Catholics may fall for these versions of the Gospel message, but the Catholic faith is the fullness of truth.
Everything we do should be done in the spirit of love which is why the full chapter of I Corinthians 13 is posted below. There are Bible thumpers sharing the Gospel, but the proper way to evangelize is through love including advice that I've heard Father Larry Richards give many times: Prayer and Fasting. Imagine, the difference that we could all make for Christ with Love, Prayer and Fasting.
1 Corinthians 13:1-13
If I speak in human and angelic tongues but do not have love, I am a resounding gong or a clashing cymbal. And if I have the gift of prophecy and comprehend all mysteries and all knowledge; if I have all faith so as to move mountains but do not have love, I am nothing.If I give away everything I own, and if I hand my body over so that I may boast but do not have love, I gain nothing. Love is patient, love is kind. It is not jealous, [love] is not pompous, it is not inflated, it is not rude, it does not seek its own interests, it is not quick-tempered, it does not brood over injury, it does not rejoice over wrongdoing but rejoices with the truth. It bears all things, believes all things, hopes all things, endures all things. Love never fails. If there are prophecies, they will be brought to nothing; if tongues, they will cease; if knowledge, it will be brought to nothing. For we know partially and we prophesy partially, but when the perfect comes, the partial will pass away. When I was a child, I used to talk as a child, think as a child, reason as a child; when I became a man, I put aside childish things. At present we see indistinctly, as in a mirror, but then face to face. At present I know partially; then I shall know fully, as I am fully known. So faith, hope, love remain, these three; but the greatest of these is love.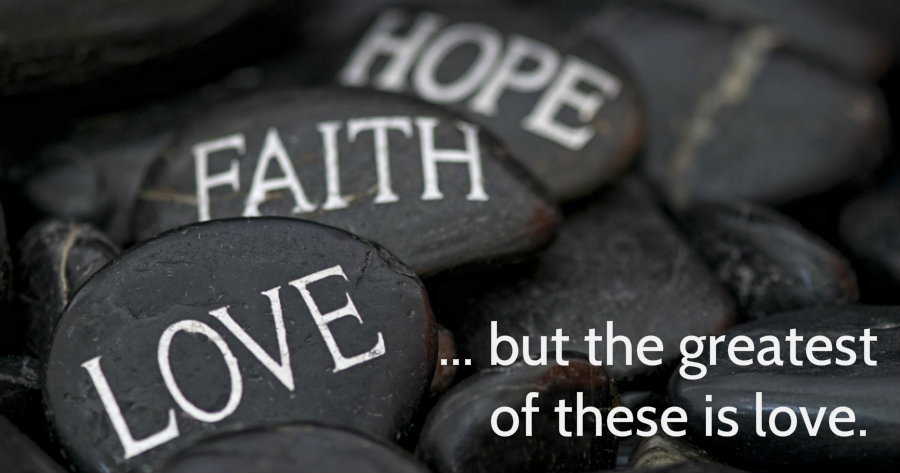 ___________________________________________________________________________________________________________________________________________________________